The armor making took hours. I was annoyed by the time it was over, I wanted to kill someone. But I must admit they did a wonderful job. Wouldn't fly at the Temple but I not at the Temple, am I?
I donned my new duds made by the Intergalactic Gladiator Entertainment fashion designers and ushered into a hovercraft to the interview area. The host of the interview portion of the show was waiting. I walked down the red carpet with my chin up.
Joan Rivers greets me at the at the end red carpet, microphone in hand.
Joan smiles, her makeup so thick it looked like it would crack. "Oh! Look who we have here! The only female remaining in this contest! DJK! And look at what she has on! It's short, it's skimpy, and it's TOTALLY HOT! How does it feel to make this far?" she gabs poking a microphone in my face.
I cleared my throat and opened my mouth.
Joan cuts me off. "Superb! Do tell us! Are the men on the show nice to you? Do they give you a hard time?"
"Well, they-"
"Wonderful! You are Jedi Knight! How do you get away with competing in LGS?"
"The Jedi Counsel doesn't min-" I tried to say.
"Splendid! You have such a pretty lightsaber! And it matches! Do you play with it a lot?" she asks.
"I don't pla-" I started.
"Magnificent! We wish you the best of luck! Now smile at the camera!"
Joan steps back and a camera flashes in my face.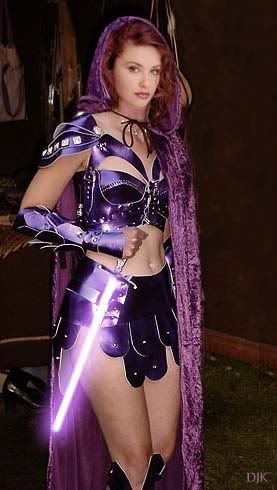 Eat your heart out Lord Vader!
I didn't say that!